xantox
, 27 December 2006 in
Gallery
Other Languages:
Single neuron from the hippocampal region of the brain. Neuron body, axon, and dendritic tree are imaged by using the GFP gene, which express a fluorescent protein in the cell.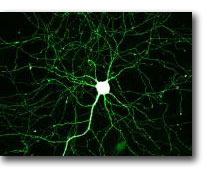 Click image to zoom1
© Paul De Koninck, Université Laval, Canada [↩]
RSS 2.0
feed.
You can
leave a reply
, or
trackback
from your own site.