xantox
, 29 December 2006 in
Gallery
Other Languages:
Discovery of the W particle at CERN proton-antiproton collider (1982)1. The proton-antiproton collision creates a W particle which then decays into an high-energy electron, emitted at a wide angle from the beam (indicated by the arrow at the bottom-right) and an invisible neutrino whose presence is deduced by the missing energy of the electron.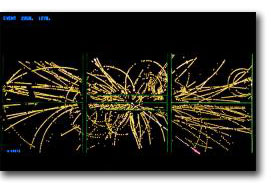 Click image to zoom2
C. Rubbia. Experimental observation of the intermediate vector bosons W+, W- and Z0. Nobel lecture, 8 december 1984 [↩]
© CERN [↩]
RSS 2.0
feed.
You can
leave a reply
, or
trackback
from your own site.