xantox
, 6 January 2008 in
Gallery
Other Languages:
Liquid surfaces are pulled by the intermolecular forces, which are unbalanced on the boundary, producing surface tension. When liquid layers with different surface tension get in contact, these forces cause a flow, also known as Marangoni effect,1 which is also the origin of the beautiful patterns found in the ancient japanese art of Suminagashi ("floating ink"). In this image, a film of oleic acid surfactant (with surface tension 32.5 mN/m) quickly spreads spontaneously about 2.5 mm over a layer of glycerol (with surface tension 63.4 mN/m). Both Marangoni and capillary stresses cause variations in the film thickness, leading to dendritic flow patterns. The contour lines are interference fringes.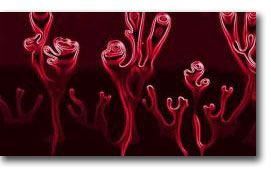 Click image to zoom2
C. Marangoni, "Über die Ausbreitung der Tropfen einer Flüssigkeit auf der Oberfläche einer anderen", Ann. Phys. Leipzig, 143:337-354 (1871). [↩]
RSS 2.0
feed.
You can
leave a reply
, or
trackback
from your own site.